"Clutter Eats Equity"
I heard this from Terry Watson this weekend in San Francisco at RESA A Staging and Redesign convention. This is why decluttering is one of the first things a Home Stager asks their clients to do. HomeGain statistics show that even though it's one of the least expensive things to do it has one of the highest ROI's. [http://blog.homegain.com/home-improvement-surveys/homegain-2012-national-home-improvement-survey-results/]

Having your closets no more than 2/3rd full when selling your home:  lets the potential buyer see the size of the closet and forces you to start packing. Over all decluttering always feels good when we are done. You can be sure that potential buyers will be looking in all your closets so show off the storage area you have, leave only what you will be using. Organize it by putting like items together and even color coding items.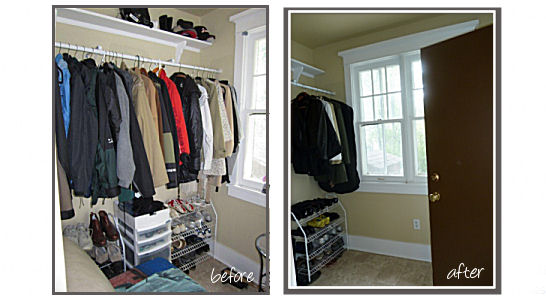 Start with your 3 piles:  keep, donate and toss. Pack up what your taking with you in boxes and put them neatly in the basement. Get rid of the toss pile ASAP.
Where to donate?
Now all my family and friends reading this know where I'm going because next to helping people Market their homes for sale, my next favorite thing to do is work with the Making Changes Association and their programs the Walk In Closet or My Best Friend's Closet, here in Calgary. [http://www.makingchangesassociation.ca/]
The Making Changes Association has focused programs for women in transition to enable them to enter the workforce and become self-sufficient. They do this by providing new and gently used business clothing for unemployed and underemployed women with financial barriers. My Best Friend's Closet provides fashionable and functional clothing for teenage girls to meet their school and recreational needs.
I know there's a charitable organization in every city ready and willing to take your donations. And most Professional Home Staging Companies will help you with your Decluttering mission.
So while we are all cleaning out our closets for spring or getting ready to sell your home, why not help others in need.
As they say at the Walk In Closet… Someone's future may be hanging in your closet!
Rachel
Property Stylist
Diversa Designs Inc. is a certified professional Home Staging company staging in the Calgary, Airdrie and Rocky View area. Call us today and we will help you prepare your home for sale with an in-depth home staging consultation or showcase your home with some additional art and accessories for the MLS photos or we can come in with a complete furniture package. As little or as much help as you need to prepare your house for sale!