We have had the opportunity to work with some incredible people. See what they've said about our services.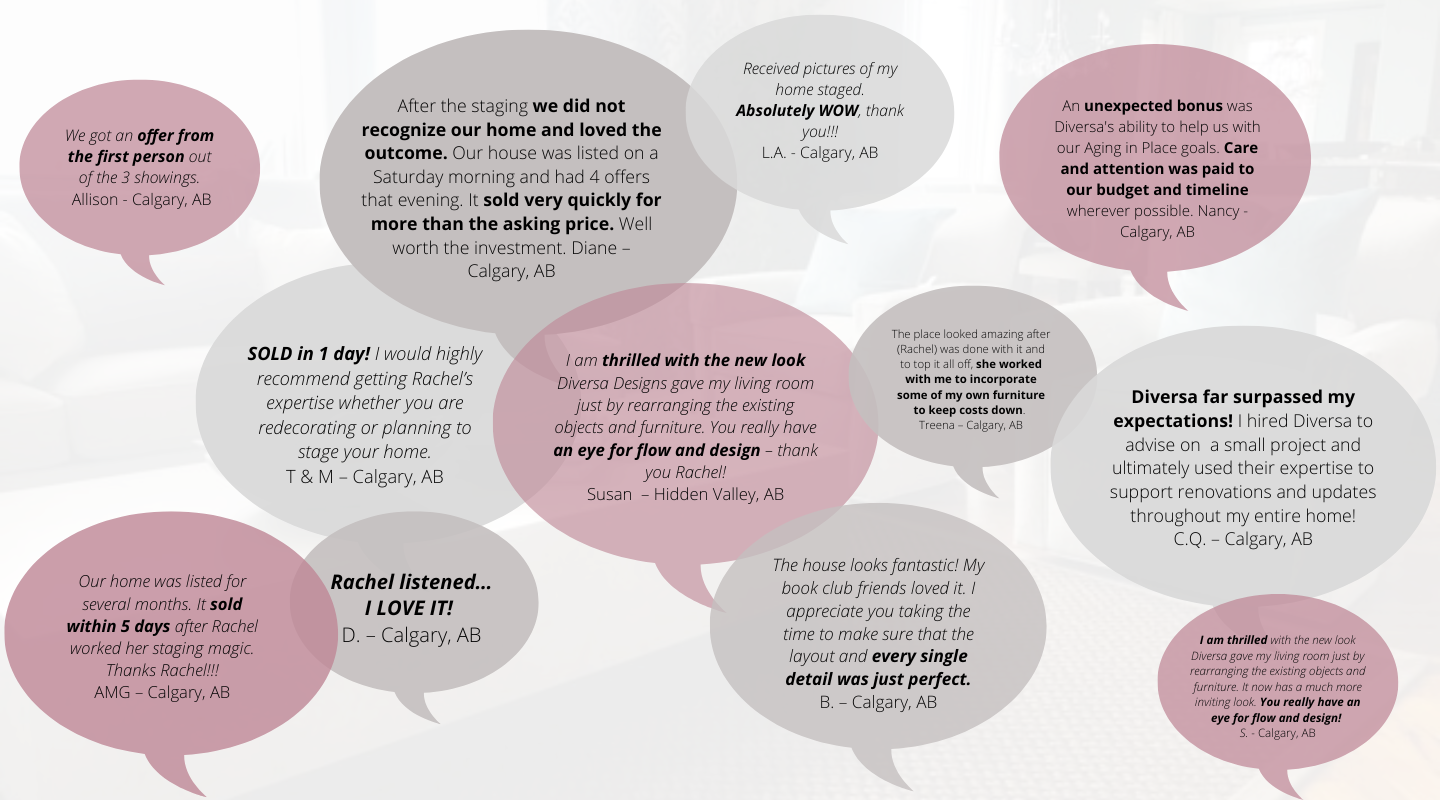 From recommending a paint colour to her imaginative décor and seamless execution, her services definitely contributed to the high number of showings that resulted in a full price offer within 3 days.  I would highly recommend Rachel and Diversa Designs."
 Cathy – Calgary, AB
We worked with Rachel to prepare our home for resale. She was very professional, knowledgeable and easy to work with.  She prepared a very detailed report of the things that we could do to prepare our home. It looked fantastic and sold in 1 day.  We were so happy with the service that Rachel provided that we have engaged her to work with us on our new home."
B and J – Calgary, AB
Rachel is absolutely wonderful to work with. Her design knowledge on staging our house sold our house within a few days of being on the market. She also gave us the confidence we needed to feel good in our new home and inspired us to have the exact look we envisioned. Next time we need design advice of any kind we will not hesitate to call her, in fact I look forward to working with her again."
CH – Layalta, AB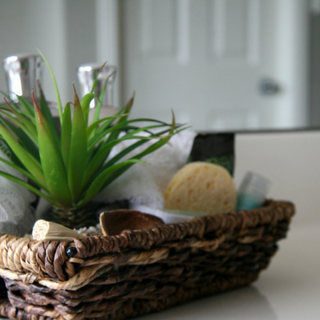 Rachel attended our home and did a very thorough critique. During this process I can only describe her as professional, gracious, and creative. The written recommendations that we received from Rachel were followed to the letter and I have to say our home took on a different atmosphere. After 5 showings it was sold. I was amazed at the effectiveness of the service Rachel provided. I highly recommend that anyone wanting to effectively market their home use the services provided by Rachel.  
K and M – Calgary, AB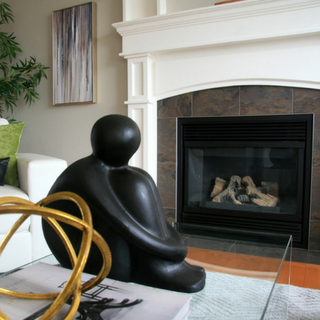 I found Rachel Borrelli and her staff to be very trustworthy,  professional and knowledgeable. Rachel and I came up with a style that has made my Condo feel like home in a short period of time. While I was out of town, Rachel and her staff took care of ordering the furniture and accessories we decided on and was there when the furniture arrived to make sure it was not damaged, properly put together and placed in the room it was purchased for. Rachel was even there on moving day when the movers arrived to assist with the placement of items that I had brought with me. If you are in need of an interior designer for big projects or small, I would highly recommend Diversa Designs. You won't be disappointed."
 Randy – Calgary, AB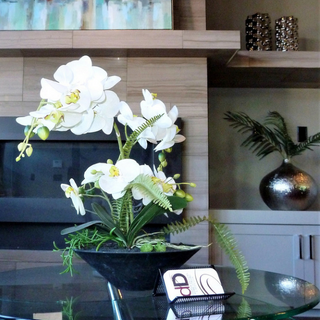 Rachel recently staged our townhouse in preparation for sale. She did an outstanding job using all her own furniture, accessories, prints etc. We sold the unit in five days and the new buyers commented that the staging was a factor in their decision to buy our unit. Rachel was very easy to work with and her follow-up and engagement in the sales process were most appreciated."
Nick  – Calgary, AB
We live a province away from the condo so were really at the mercy of the service providers we chose during this process and Rachel topped the list. Not only did she get everything setup beautifully, and in a timely manner, but after the setup she would check in regularly to make sure everything was still looking great. Our realtor actually called one day to say that he ran into Rachel at the condo and she was dusting! The pride in her craft was very obvious and, knowing that we were not around to check in after a week of viewings, she took it upon herself to ensure that pride continued to stand out.
My favorite part, the return! We positioned the price on our condo over 10% higher than anything else currently in the complex. Our realtor was confident in the work we had done and how Rachel would present it. In the end we got a home that showed well in pictures and in person, generated lots of activity and ultimately sold four times faster than the average in the complex and at a price we were extremely happy with.
For anyone selling a home, I would definitely recommend staging it and the only call I would make is to Rachel. The process of selling a home has many moving parts and requires a lot of information that you don't typically have access to. Staging a property with Rachel does not just get you items put into your home. It adds a true real estate professional to your team that can guide you to a successful sale! Thanks Rachel!!"
Craig – Calgary, AB
Oh Rachel was Fantastic. I really liked how she just got in there and worked her magic, also her assistant; wonderful people. Very pleased; great team thanks that means a lot."
Client of Team Leesman C.A.R.E.S.  –  Calgary, AB
Our house sold in less than a month, and we believe it was a credit to the great work Rachel did for us.  We would not hesitate to recommend her to anyone wanting to sell their home. It was a pleasure working with her."
Brian and Cindy – Calgary, AB
Diversa Designs unique business model exactly suited our needs. Despite a challenging supply chain environment we were able to continually move our home redesign project forward with their assistance. An unexpected bonus was Diversa's ability to help us with our Aging in Place goals. Care and attention was paid to our budget and timeline wherever possible. We would definitely use Diversa's services again if required and do not hesitate to refer their services."
Nancy – Calgary, AB